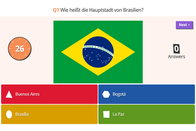 Use Kahoot for revision in class.
Infos zum Linktipp
Test Kahoot with some ready-made exercises before you write your own quizzes. The teacher needs Internet, a PC and a data-projector and the pupils can use any mobile device.
Idee zum Unterrichtseinsatz

You can use Kahoot for revision or to finish your class with a hot competetion.

"Definitely worth trying!!!"

Ihr ePilot Walter Steinkogler.